Welcome
A very warm welcome to Bradwell Church of England (Controlled) Infant School!
We are the only Infant school in the Hope Valley and usually have about 30 children enrolled. For the academic year 2017/18 we have:
In Class 1: 11 Reception and 5 Year One children.
In Class 2: 8 Year Two children.

We are a happy and friendly school, with lots going on. This website aims to give you a taster of the school, as well as providing regular updated information for both parents and pupils. More detailed information can be found in our Key Information section.

Please see below for our School Values.

We hope that you enjoy your visit to our website, and that you find any information you are looking for. Please feel free to contact the school direct with any queries you may have.

Thank you for visiting our website.
If you wish to visit our school we will be delighted to see you and show you round!

Geoff Wharton - Headteacher.
Road Safety 2017 -
POLITE NOTICE - THINK BEFORE YOU PARK!
YOU COULD ENDANGER A CHILD'S LIFE.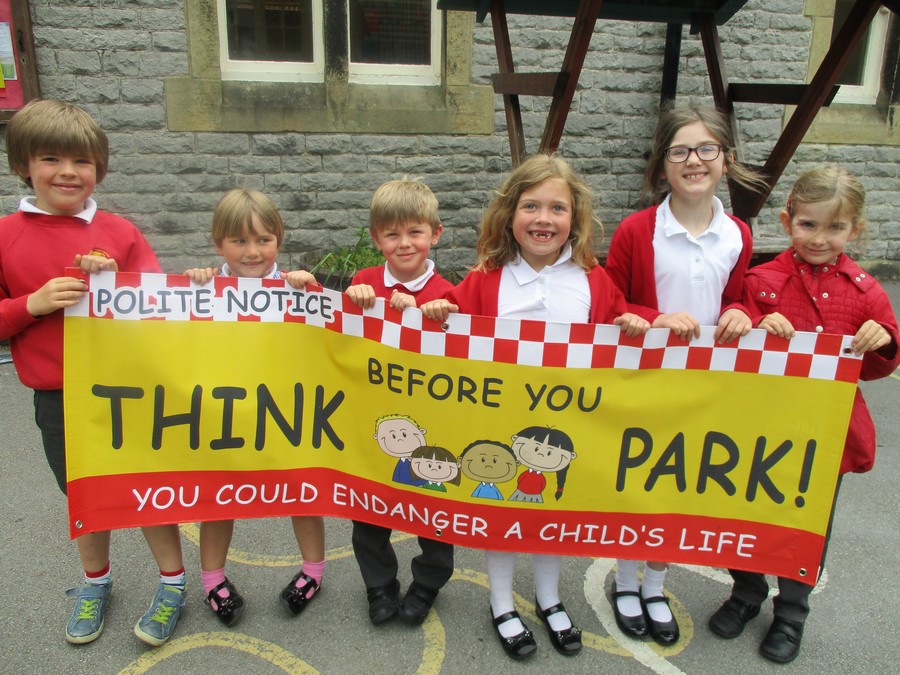 30 Days Wild
http://www.wildlifetrusts.org/30dayswild/schools
25th – Draw a wild landscape – Can you use your imagination?
26th – Switch off to tune in – Can you turn off all electronic gadgets today?
27th – Race for a rainbow – Race friends to find the colours of the rainbow.
28th – Map your local wildlife – Draw a map and make where you see wildlife.
29th – Pick up litter – Sweep the area for rubbish and pop it in the bin.
30th – Write a wild poem – Write a list poem about 30 days wild.
Staying cool on a very hot morning with a little treat! Thank you Bradwell Preschool - Hill Billy & Bradwell Post Office for our ice cream.
Bradwell CE (C) Infant School News
The whole school took part in a sponsored walk, picnic lunch and sports day.

Thank you, Bradwell Ice Cream.

The whole school enjoyed Wheels Day.

All the pupils donate individual food boxes, which will go to the Sheffield Archer Project, helping the homeless and vulnerable.

Whole school workshop from the RNLI
Further Articles »
Bradwell CE (C) Infant School News
The whole school took part in a sponsored walk, picnic lunch and sports day.

Thank you, Bradwell Ice Cream.

The whole school enjoyed Wheels Day.

All the pupils donate individual food boxes, which will go to the Sheffield Archer Project, helping the homeless and vulnerable.

Whole school workshop from the RNLI
Further Articles »
Bradwell CE (C) Infant School News
The whole school took part in a sponsored walk, picnic lunch and sports day.

Thank you, Bradwell Ice Cream.

The whole school enjoyed Wheels Day.

All the pupils donate individual food boxes, which will go to the Sheffield Archer Project, helping the homeless and vulnerable.

Whole school workshop from the RNLI
Further Articles »